This was my second time attending Emerald City Comic Con and it was another blast. I attended on behalf of Cosplay Alliance as an interviewer.
I didn't realize my favorite artist was attending, Marcus the visual who is on IG
@marcusthevisual
. I was actually wearing his version of a genderbend Rogue cosplay from X-Men that he drew during his annual Swaptober series. He gladly obliged to be interviewed and of course I did the interview in cosplay. The interview can be seen below.
I was also fortunate to be invited to a 30 plus cosplay panel where we discussed cosplaying in your 30's and beyond. We received massive support and I met some amazing cosplayers. I was invited to be on this panel after meeting the founder of the 30 plus cosplay group at ECCC 2022. The over 30 cosplay IG account is
@over30cosplayofficial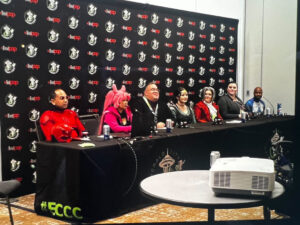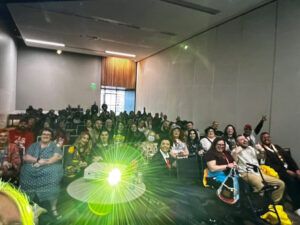 One of the highlights of the last ECCC 2022 was meeting videographer, Chong Ahn
@chongahn
, and if you saw my blog about ECCC rom last year then you know we made a lot of videos. This year was no exception. I don't have all of the videos to release at this time but here are a few of them.
I met a very inspiring cosplayer at Dragon Con in 2018. Beverly Downen or
@downen_creative_studios
. She allowed me to interview her. Beverly is the founder of She Prop and has released a new book which is the ultimate guide for creating with EVA Foam. She has been featured by Marvel in the Becoming Marvel series. Seen here:
https://www.youtube.com/watch?v=knmcNsbkBks.
Here is our interview:
This was the first time I went to a prom after a convention and this event was a good time. I decided to wear this A-Train concept art. I saw this concept art posted by
@illustratedbygina
(Gina Dedomenico) where
@ljsupersuits
(Laura Jean Shannon) designed how Supes from The Boys would look at a red carpet event. I really liked the A-Train image and wanted to recreate it. Here is me at the Seattle Convention Seattle Center right before going to the prom.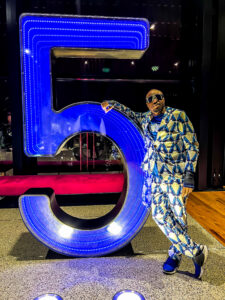 Representation is
extremely
important and I met a comic who is drawing Latina superheroes she wished she had growing up.
I sat down with Latina Princesses creator Kayden Phoenix
@kaydenphoenix
about Latina representation.
I was also able get a tour of the Studio Ghibli booth and it did not disappoint.
I met the talented
@vivsai
and she was gracious enough to give me an interview about crafting with worbla.
I was also lucky enough to be featured on the Seattle News instagram and give a very brief interview of the con. Link:
Seattle News Instagram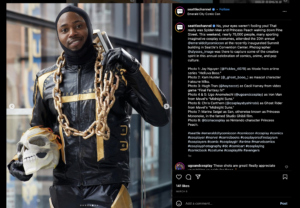 I have to give a huge shoutout to
@stellalasaurus
for being the Sylvie in all of our con shenanigans and Ugo for our epic team ups. A major shoutout to the Rogue variants featured below.
This ECCC was amazing and I was able to reconnect with old friends and meet a ton of new friends. I definitely will be back and really consider strongly moving to Seattle.
Here is a video from
@ugoandcosplay
that sums up Sunday at ECCC in which he received help from
@trexyjess
at the cosplay repair center who patched him up and as you can see was extremely positive. What a great group of staff at the repair station.
Here is a link to last year's blog about Emerald City Comic Con.