My first WonderCon is in the books and it was a lovely experience. I was able to meet some cool creatives and some very talented artists. There were attendees from over 20 countries at this con at the Anaheim Convention Center.
I was able to complete a couple on site interviews for the cosplay alliance youtube channel. I met
@caoimhe
in person who was the first black cosplayer to have 1 million followers on TikTok. We talked about representation in the cosplay community and why it is important to her.
Even though Marvel is claiming to be hosting the first ever Hellfire Gala Walk at D23. Well they must be mistaken because
@meshellwaffleo
and
@thegirlwithagreatsmile
hosted a Hellfire Gala at WonderCon and I was lucky enough to be invited to take part in it. The gala showcased some of your favorite gala looks and I chose Nightcrawler as my character based on the Bob Quinn design. The event was supported by
@shortboxed
shortboxed.
The live recording of the gala can be seen here.
I also did something new. I recorded a song and with the help of
@chongahn
Chong shot a music video for an A-Train theme song. This went from idea to actual completion in only a week and a half. The video is being edited now.
One of the highlights was bumping into Straw Hat Goofy and inviting him to a premiere of a movie I am producing later on this year.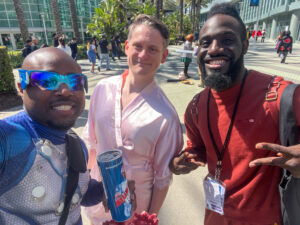 As a media member it was a pleasure to check out some of the panels. I want to highlight the panel series from Imact24.
For this year's WonderCon, excited film, television, and video game fans dove into the world of entertainment at Impact24 PR's Panel Superblock Series, the ultimate destination for a behind-the-scenes look at projects like "The Last of Us," "Outer Banks," "Ms. Marvel," "Daisy Jones and the Six," "Doom Patrol," and more!
The "Scene Breakdown: Behind the Camera of Film and TV Shows" panel gave attendees a look at what it takes to bring a project to life. The panel featured showrunner/ executive producer Anthony Sparks (Queen Sugar, Bel-Air), VFX Supervisor at FuseFX Art Codron (Outer Banks), editor S. Robyn Wilson (A Black Lady Sketch Show), production designer Cabot McMullen (Shrinking), executive producer Rachel Watanabe-Batton (Sneakerella), composer Andrew Morgan Smith (The Old Way, The Owl House), and was moderated by actor Chris Villain (Mystery Incorporated).
"All you need is a piece of paper, an idea, and a pen or pencil. You can change your world or the world that way. Writers often think they need to come up with something that they've never seen," explained showrunner Anthony Sparks. "That can be a great idea, but what tends to get you some new traction as a new writer is writing about something you've been running away from or are scared of. Put your experience and stories on paper."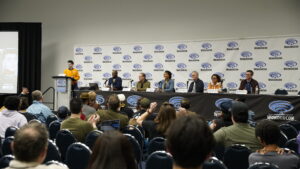 The "3rd Annual "It's Alive!": Designing Sci-Fi, Horror, and Comic Book Genre Film and TV" panel saw entertainment creatives give insight into bringing thrilling and often chilling words to the screen. The panel featured production designer John Paino (The Last of Us), cinematographer Jules O'Loughlin, ASC ACS (Ms. Marvel Episodes 4 and 5), editor Tayor Joy Mason (Dahmer: Monster, The Jeffrey Dahmer Story), executive producer/ co-creator Elle León Nostas (Mark of Death), composer Stefan L. Smith (Batman: The Doom That Came to Gotham), and producer Christopher Kaminski (Cobalt Knight), and was moderated by voiceover artist and actor Queen Noveen (Redfall).
"They're making the path and we're making environments. All of this has to be developed with the game in mind," said "The Last of Us" production designer John Paino about his work in the series. "We always went back to concept art."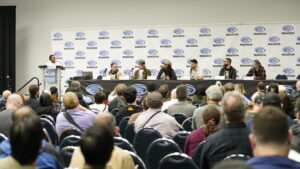 The final panel in the Superblock Series, "All in the Details: Costume, Makeup, Hair, and Production Design for Film and TV," focused on the magic of transforming actors and sets for entertainment. The panel featured makeup department head Rebecca Wachtel (Daisy Jones and the Six), hairstylist/ wig maker Justi Embree (Missing), costume designer Jennifer May Nickel (Gotham Knights), production designer James Bolenaugh (Kevin Can F**k Himself), and costume designer Carrie Grace (Doom Patrol, The Boys Episodes 1 and 2), and was moderated by voiceover artist and actor Queen Noveen (Redfall).
"When you read a book, you kind of imagine the characters in your head," said "Daisy Jones & the Six" makeup department head Rebecca Wachtel on starting the series. "Once I knew who was cast, I couldn't wait to bring the characters to life."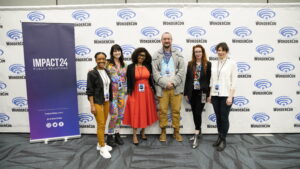 Panel Photo Credits: Peter Chamalian, Impact24 PR
The Impact24 PR Panel Superblock Series at WonderCon 2023 provided an unparalleled behind-the-scenes experience for attendees as industry professionals from various departments gave them exclusive insight into the making of popular films and television shows. Attendees left with a newfound appreciation for the artistry that goes into their favorite projects.
Here is my interview with Ant-Man and Kang. This is hilarious as it was unprompted with no practice and they were cool enough to just go with the flow.
If you're a cosplayer at a convention it is normal to have costume issues. Your best friend is always cosplay repair. I ran into a cosplay repairman who was cosplaying Fix it Felix. Here's my interview with him.
This convention has its mishaps. My good friend
@ugoandcosplay
had an unfortunate accident in which he tore his patella tendon. We left the convention in an ambulance and everything. Good thing there was a doctor on site that helped us immediately. Much thanks to
@thedoctorhomie
. Everyone was so supportive and we were able to get to Saint Irvine Hospital to get him checked out before getting on a plane back to London the following day. Unfortunately he has to get surgery to repair the damage. Get well soon brother. How did this happen? Well he was directing a spider-man shoot where he was jumping. At least I got the shot.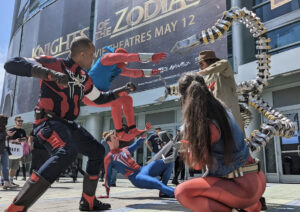 Here is Ugo creating the greatest video at WonderCon
We also had the chance to live out our Childhood dreams and with the Power Rangers 30 year anniversary this year we couldn't resist doing a video with Walter Jones.