First off I want to thank @cosplay.alliance for featuring me on the cover of the Black Heroes Matter issue. As soon as I was asked I knew the exact photo I wanted to recreate.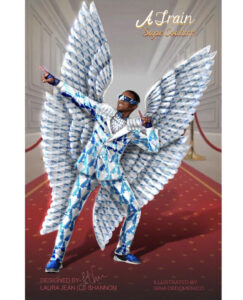 I saw this concept art posted by @illustratedbygina (Gina Dedomenico) where @ljsupersuits (Laura Jean Shannon) designed how Supes from The Boys would look at a red carpet event. I really liked the A-Train image and wanted to recreate it. The great @dtjaaaam took the photo and @ryansimsphotography smashed the edit.
This issue celebrates black cosplayers!! The first of a two part issue features some of the most talented and inspirational cosplayers. Cosplay Alliance believes "Cosplay Is For Everyone" and this issue embodies that. Support all cosplayers, photographers, editors, make up artists, etc. by following their socials.
Thanks for letting me choose some awesome black cosplayers to be featured. Y'all are seriously dope.
Featured Cosplayers:
@gc.christopher_
@darkhyperioncosplay
@foxfrd
@mzzskittlestr_cosplay
@teamawesome418
@andrecampbell77
@michaelajih
@aaliyahmason
@itstyreek
@royaltycosplay
@certified_cosplayerboy
@tiarabreecosplay
✨Get Your Copy Today✨
I was also able to write an article in the magazine title Black Heroes Matter.
Shoutout to the togs I've worked with in this issue
@candidjohnkim
@davevepers
@shotsbyshinobi
@zdbimages
@worldofgwendana
@jamie_flack
@mrdangphotos
And stay tuned for BLACK COSPLAYERS MATTER PART 2
The magazine can be purchased at the following link: https://www.blurb.com/b/11528973-cosplay-alliance-february-black-cosplayers-matter