For anyone that knows me I have always been into comics and science fiction movies. Few of you have know that I had aspirations of creating my own comics and video games. Once in middle school I actually did create some characters and my 1st Comic Con and the hero's name was Cop Lemonhead. You can use your imagination to come up with what this character may have looked like. Well I haven't realized my dream of creating a comic but it is never too late. Maybe one day I will achieve this dream. Now to the main event. This was my 1st Comic Con and what a great experience for it to be in London of all places. The atmosphere was electric and I spent 4 minutes with 4 other cosplayers trying to figure out how to get there after we were forced to get off the train that stopped working. We made our way to pick up our passes for the day or weekend, whichever you booked for the day. I can't help but feel the collective energy of all at the event. It is so refreshing that there are no racial tensions at Comic Con as everyone is happy and cordial with one another and respecting everyone's cosplay. It is refreshing to see random characters to include green aliens, mutants and zombies come together in peace and harmony. We represent a very large diverse group of people that find a way to enjoy the event together. I saw huge groups of cosplayers that grow their organizations through these events and a couple added myself as a photographer for some of the groups. I ran into one of the best Captain America's I have ever seen and he had the motorcycle to go with it.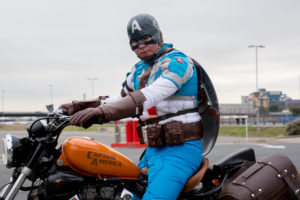 If you are planning to go to Comic Con I am going to lay down a few ground rules for photographing cosplayers. It doesn't matter if you are a professional with a DSLR or a smartphone these apply to all.
Be respectful of the cosplayers and their space. Do not just run up to touch them or grab at their outfits.
Always be ready to snap your favorite cosplayers and try not to take too much time
Do not just take pictures of cosplayers without their consent. They are dressed up and are very willing to take pictures but they have to take breaks and take their masks off and do not want their picture taken when they are not in full costume normally. Always ask and be polite.
Ask them for their social media information so you can tag them in your pictures.
Have business cards where they can view, buy or download their photos if you are a professional photographer.
Comic Con was a great experience and I already booked my hotel for next years as I plan to have a mobile photo booth set up for the cosplayers. You will not see everyone you want to and their are times you may see a cosplayer in the distance that you want to see and you will never see them again. It sucks but it happens. Also my advice is to go early to beat the crazy lines to get into the venue. Friday and Sunday are much better if you do not like large crowds. Overall the event was well organized and all the attendees were very friendly. I had many good conve
rsations and met many new friends at Comic Con London and plan on photographing many cosplayers privately. I would advise you to go to experience Comic Con at least once.
Negan from the Walking Dead was one of my favorite characters as he is one of the best villains on television. I am sure he is one of the most hated characters today as he bashed in Glenn's and Abraham's head in the series opener. Some of my favorite photos are below: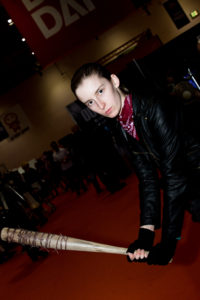 Negan. I told her she should have had some brain meat on the bat and it should have been bloody.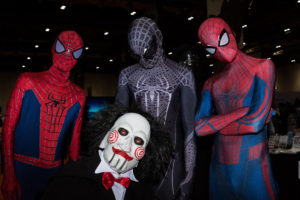 3 Spidey's and a Jigsaw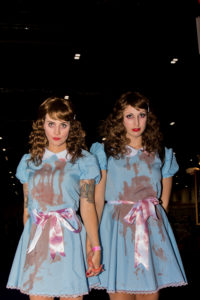 Meet the twins from the Shining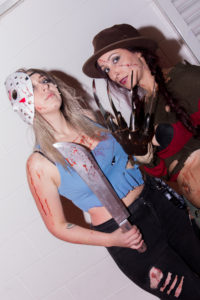 Freddy vs. Jason (Who ya got?)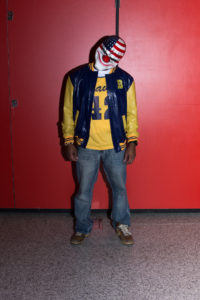 And this is me in my Teen Wolf (the 80's movie get up with my mask since I left the wolf hair and beard in the hotel). Any ideas on what I should dress up as next year? I have something in mind already 🙂