This blog post is dedicated to one of the most beautiful places I have ever seen. Lake District, England. I have taken 2 trips to the area in 3 months as I was amazed by the natural beauty picturesque landscape. The area is a photographer's dream and a great place to hone in your skills. I last visited in the summer where the fells (small mountains) are covered with gorgeous green landscapes and there are many rivers, waterfalls and lakes to visit. On the 1st trip I stayed at this quaint B&B in Keswick owned by a lovely family that recently moved to the Lake District. I was lucky enough to be one of their 1st guest and really were amazed at how well they ran this B&B as 1st time owners. Caroline and Clive run a very good place that I recommend if you are visiting Lake District. I discussed photography with one of the owners, Clive, who has been into photography for over 2o years if I remember correctly. He helped to direct me to different points of interests to discover. If you like trekking and hiking this is the perfect place for you. If you love landscape photography you might not ever leave! I like both so… On the drive in I knew this was going to be a special place for me; it was too picturesque not to be.
I started to walk to the Derwent Water Marina where I took some beautiful photos of the lake and of the fells in view. The views are amazing! Next I decided to hike up Cat Bell fell which was a pretty good exercise. Word to the wise you have to be careful on some parts of fells as rocks are sharp and parts of the climb can be steep. When I got to the top I just sat and had some snacks and took it all in. It was so beautiful that I couldn't snap any pictures as I didn't think photos could do it justice. But of course I would try to capture the beauty.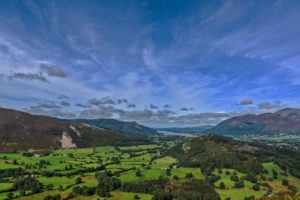 Next I decided to drive to different towns along the one-lane winding road that is supposed to be a two-lane road. You find places to stop off just to take photos or just to explore. As you navigate this area many of the roads are very windy and made for one car so be careful because there are many people walking the area and many sheep close to the roads also.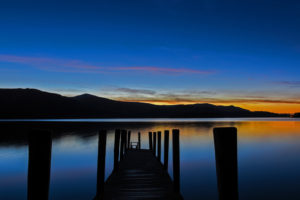 The next day I drove around again and decided to go kayaking on Lake Derwentwater and it was amazing to see the views from this perspective. There was also dragon boat racing on the lake and I got a couple of shots of those activities. Next, I continued driving just to explore the area and passed by the most beautiful scene, Buttermere Lake. I tried to find a place to stop off but never did. I was disappointed as this was that special postcard photo that I was hoping to find here. I continued driving until I saw this amazing sky at the jetty landing and pulled over to park to snap some long exposure shots. The colors were amazing! After this I decide to make my way home when I see the moon and once again decide to pull off the highway and walk in the dark to a point where I could get a decent shot of the moon.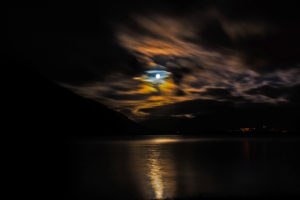 This marked the end of my 1st trip to Lake District.
Now it's November and I decided to take another trip to see the fall colors and the difference in the seasons. Guess where I stayed this time, the Mount! Again I highly recommend this B&B and was told I was the 1st repeat customer. I am willing to bet I will be the 1st 3-peat customer. Side note: I love crispy bacon but I don't know anywhere in England that serves crispy bacon besides this B&B. If you decide to stay there for any reason do it for the bacon. The breakfast spread is amazing also. They make the bread fresh and I am a fan of the egg and avocado on toast with a side of bacon of course. As I got closer to Lake District it was clear that the fells would be covered in snow which would give me a totally different perspective than before. I was actually supposed to meet with a local landscape photographer that would take me to some breathtaking places but he cancelled due to illness. So I started my trip by visiting the Derwent Water to take a couple shots on the lake with the snow-capped fells in the background.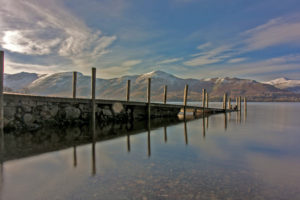 Next I decided to hike back up to Cat Bell fell to see Keswick and the Borrowdale valley. For some strange reason I did not use my tripod but photos were still pretty good. After this I drove another few minutes ahead and decide to walk down this public path to the end of Lake Derwentwater to where it rained a bit but I was able to walk along the path and take a few good shots of the lake. After I went back to the B&B where I was persuaded with amazing views of Keswick to hike up Latrigg Fell. Clive gave me a lantern and I was off to the highest point where I could park and then walk to this viewpoint. It was pitch black so the lantern was necessary and it was 4-5 inches of snow. I took the 1st path I saw which turned out to the incorrect. I ended up stepping in muddy puddles and crossing a stream and after 45 minutes knew I took the wrong path and went back. With little noise pollution from lights the stars looked absolutely amazing! I got back to the car park and decided to try another path. I walked for 20 minutes and decided to turn back and re-group to try again the next day.
The next day I set off to the Theatre by the Lake to catch sunrise on the other side of Lake Derwentwater, Isthmus Bay, and I was not disappointed although it was below freezing and pretty cold. There were amazing views of Cat Bell and Skiddaw from the bay.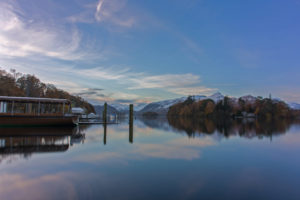 After I went back to have breakfast and chat with Clive and Caroline before heading off. I drove back to the jetty that I shot back in August and it was truly amazing. Next I set off to grab a bite to eat and stopped at a couple spots along the way just to take in the awesomeness that is nature. The winding one-lane roads are tricky to navigate at times especially with some ice and snow on the edge of some of the roads that make it difficult to just pull to the side to let cars drive by. I was driving to and came to Buttermere Lake where if you remember was the most beautiful scene I saw the entire time I was there in August. I was actually pretty tight for time as I needed to get to Latrigg by 4 pm so I could see the path in the daytime. Well it was about 2:45 pm now and I had to stop and see images below for why. Clearly you can see why I was disappointed that I was not able to stop here during my 1st trip.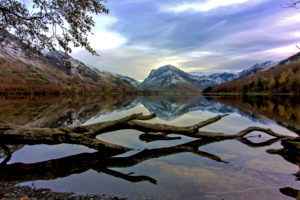 It was so peaceful on the lake and you could see clear through to the bottom. There were a couple swans on the lake along with the sound of nearby waterfalls. It was already about 3:45 when I left Buttermere Lake. The road I was taking was closed so I was forced to double back the way I came. I was driving and was getting ready to pass the same jetty as before when I saw this pink and red haze from the sun setting and I just had to pull over again. Well no way I make it before dark but this sky was amazing!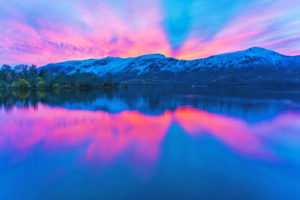 I finally jet off to Latrigg and I reach the car park and decide I am going to make it today. I didn't have the lantern this trip but I had my flashlight on my phone. I found the correct path after walking yet another incorrect path and it literally took all of 15-20 minutes for me to reach the viewpoint among the sheep. I fiddled around with my tripod and camera in the dark and managed to get a good image. Was it worth it? You have to wait and see. It actually probably would have been great if I got there before night hit as the views would have surely been amazing with the snow-capped fells in the background of the town of Keswick. This was also the 1st time I was able to snap stars as normally I am not in a place that is this dark but it was just cool to be there and to just take it all in.
I expect to visit Lake District once per season at a minimum and collect many photographs. Just to give you some perspective about the size of the area of Lake District National Park it is the largest in England and covers more than 912 square miles and has over 200 fell tops. I think this will be my actual 1st project that I will release as a book. There a so many more areas to explore here and I plan to do so over the next couple of years. You can see why this may be my favorite place in England.