It is fitting that I made it back to New York as A-Train as the first time I wore the cosplay was at New York Comic Con. It was there I met ready_season_one who was dressed as Homelander. So of course, I had to contact him to see if he was available to shoot. We gathered one more member of the Seven, samsyndulla, who was Starlight and decided to walk the streets of New York City and take some photos. We received some cool reactions from people and were stopped by people to take photos on several occasions. I must also thank snaps_by_hawkguy and sydrelx for being available at the last minute to take pics.
One of my favorite parts of this shoot was going to Shake Shack. If you're a fan of the show you know why that was important to do. We did some funny videos. Here is one of me walking into Shake Shack and Homelander shaming me for doing so.
They even let me get behind the counter to take a photo.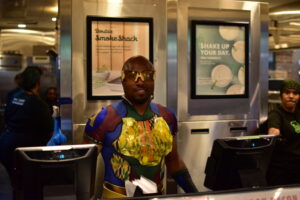 There is a scene in season 3 of the Boys where Homelander is fat shaming A-Train while he is drinking his shake. We took a series of photos to illustrate it and then I decided it would be best to combine those photos into a video with the audio from that scene and it turned out perfect.
One of my favorite shots was me laying in the street post heart attack. @Sydrelx captured it perfectly on the streets of New York. People even stopped by to see if I was okay lol.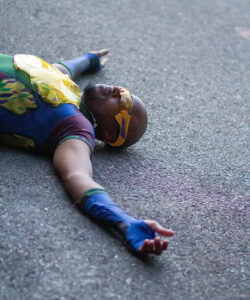 Homelander loves milk in the show and since shakes have milk in them I wanted to create a photo where Homelander drinks a shake and has a milk mustache. I call it a shake with fresh breast milk lol.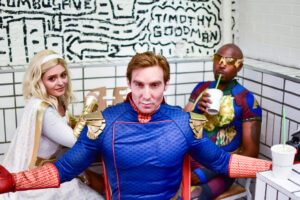 One of my favorite images is when we were crossing the street and @snaps_by_hawkguy says stop and calls out running pose in the middle of the street and I pause and quickly jump on one foot to create the image as if I was running. I edited to make it appear as if I was running and I just love the shot.