Dragon Con is back! This is always my most anticipated convention every single year. I was becoming the fittest I've ever been for it. Atlanta is home for me as I was born and raised there. Dragon Con was the first con I went to and was my introduction to what cosplay was. It quickly became my favorite convention to attend and still holds the top spot to this day.
Last year I was invited to represent Dragon Con this year on a Fox 5 news segment which was an honor. This year I was invited to participate in the parade for the first time by the Diversity and Inclusion group. We set up a Coming to America cosplay group. This was a full circle moment for me as the Black Geeks of Dragon Con coordinated this and I first met them when we are all dress in Coming to America cosplays in 2018. We took a photo that year that was later used in an Academy Awards advertisement. Being this is my hometown my family could see me live on the broadcast in my natural comic con habitat dressed as a Prince Akeem, the McDowell's. The parade was amazing. Even on little sleep. The energy from the crowd was everything and I absolutely want to participate again.
Dragon started with a bang from the very beginning and my friends and I picked up from where we left off in 2022. Hosting pop up parties at the Marriott in the evening has become a trend that cosplayers have come to depend on from my crew. Everyone likes to dance to the music of DJ Swaggy while the crew is partying with all the cosplayers. We have been submitting to host the parties officially with Dragon Con for a few years. This year we continued hosting the pop up parties but we also threw a party at Vanity Restaurant and Lounge on Saturday evening. It was very successful and the response from everyone has been amazing. People have been saying it was the best party during Dragon Con and want us to continue to try to host the party officially at one of the host hotels for Dragon Con.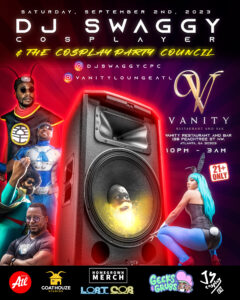 We even did a very special DC Comics/Mario mashup group. We had so much fun with this cosplay group as we are truly friends so all the energy was there and the positive energy from everyone else that saw the group was amazing. Since the Flash is my favorite DC character I paired him with Toad. I couldn't have been happier with how the cosplay turned out. Don't worry we will be doing more groups in the future. We are actually planning an awesome one right now.
Ugo had an idea to recreate a fight scene from the Arcane series on Netflix and of course I was ready to record it. It was pretty amazing to record such a dynamic scene. I love recreating scenes in cosplay. It has become one of my favorite things to do. Here is that video.
Everyone knows I am a huge fan of the Boys and one of the most well-known A-Train cosplayers. This was my first year cosplaying A-Train at Dragon Con and people were anticipating it. We had an amazing group. We ended up meeting Nate Mitchell, who plays Black Noir on the show, and he recognized Ugo and myself as we have interacted with the fans online. Something amazing happened after this. We met Colby Minifie, who plays Ashley, and we did a well known skit with her from the show.
If you are not familiar with the Montgomery Brawl that took place in Alabama then you've been living under a rock. I met a woman cosplaying the woman that was hit with the chair and she was nice enough to let me take a photo with her.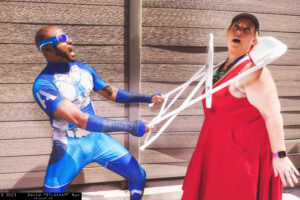 The photo above was taken at the Black Geeks of Dragon Con Photoshoot. It is always a highlight to be surrounded by so money blerds that cosplay. I never knew this type of gathering was possible before Dragon Con. I make sure to make it every year to meet new blerds and reconnect with old ones.
Across the Spiderverse was one of the greatest movies I have ever seen. Of course we had to do a group and I had to bring my Miles/Spider Punk mashup. Ugo has this Miles 2099 mashup suit by the great MarcustheVisual.
The best part of Dragon Con was catching up with old friends and making new friends. Meeting people you have been following and exchanging messages with for years now. The people are what makes any con special to me and this one was no different. My heart is full. It was a real homecoming and I can't wait to do it all again next year.
Since I was home we ended Dragon Con by hosting a cookout at my family's house and I invited some of my closest cosplay friends who were visiting from the United Kingdom.