MomoCon and Sony Pictures announced a team up to attempt a Guinness world record for the most Spider-Man and Spider-Woman cosplayers web slinging in a single location. This collaboration was part of the celebration of the highly anticipated movie, Spider-Man: Across the Spider-Verse which is now in theaters. If you haven't seen it then you are missing out.
The current world record stands at 601 web slingers cosplaying as Spider-Man or Spider-Woman which was achieved in India back in 2021 at the release of Spider-Man: No Way Home. After I saw the announcement I changed my cosplans for the Saturday of the record attempt. Spider-Man is my favorite super hero of all-time and it was a pleasure to be a part of the world record attempt. As a die-hard Spider-Man fan, I had to be part of an incredible record-breaking event. I chose to show some of my creativity and don my Miles Morales/Spider Punk mashup which was received well. Photos by @willmydell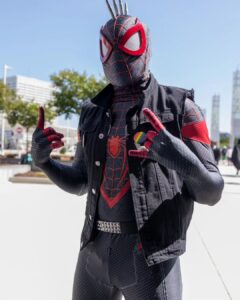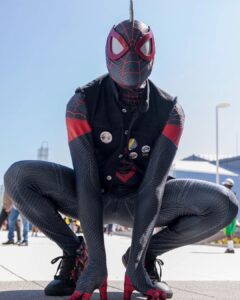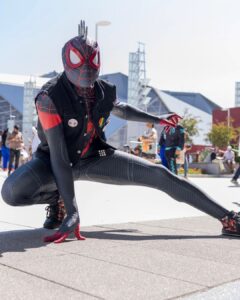 With great power comes great responsibility! Here are the rules as stated by Guinness judge.
You had to appear as one of the incarnations of Spider-Man, in full costume. Wearing a facemask.
MomoCon 2023 and the Spider-Man cosplay gathering will undoubtedly be a sight to behold, capturing the imagination and admiration of attendees and fans alike. Don't miss this extraordinary opportunity to be a part of something truly remarkable, as MomoCon and Sony Pictures unite the Spider-Man community and create a memorable experience that will be talked about for years to come.
Here is my video of the day mixed with some footage from MomoCon.
On Saturday 462 Spider-Man/Spider-Woman cosplayers gathered at the convention in an attempt to break the Guinness record for most spidey cosplayers. We fell short of the 601 record Spidey-People but had a great time trying.
I am pretty sure I set the record for leading the most spidey cosplayers in the Swag Surf. That was an amazing experience.
"Spider-Man represents the good in this world and has since his debut more than 60 years ago. It's the sort of character that can be molded for so many wonderful interpretations while maintaining the iconic heroism of Spider-Man. We cannot wait to see everyone at Momocon and Atlanta itself flex their creative skills as we attempt to crush this record," said MomoCon Co-Founder Chris Stuckey.