MomoCon returned to the Georgia World Congress Center Thursday, May 25 – Sunday, May 28. MomoCon smashed its own attendance record with 48,000+ unique visitors attending the convention during Memorial Day Weekend convention. That represented a 15 percent jump from 2022.
At MomoCon I saw some amazing cosplayers from around the world and met people showing love for characters from all types of pop culture, comics, anime, and video games.
I took some time to show some love to the togs and videographers in a video. Featured are @dtjaaaam and @modernanimator. I was also lucky to spend some time talking with DMC from the famous Run DMC. He spoke about his love for comics and why he started making his own comics.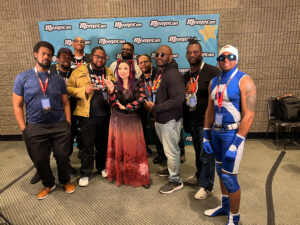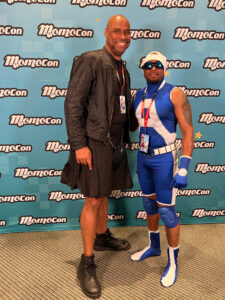 It was my pleasure to also interview a cosplayer I have known since 2018. @aquariustaughtme is an amazing cosplayer and was the inspiration in my choosing to cosplay Nightcrawler after seeing just how good a black man could look in blue. I told him as much in my interview with him.
I also got a chance to meet the wonderful @fantasticfrankey who is one of my go to social media personalities for all things pop culture.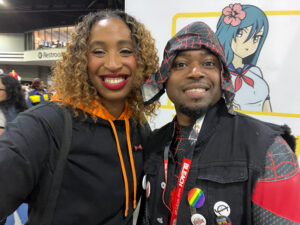 It is widely known that my favorite artist is @marcusthevisual and I got a chance to catch up with him. He made an announcement just a few days before MomoCon that he completed a variant cover on the latest Static issue and he actually saved one for me. I have cosplayed one of his designs and he saw it in person at ECCC. I am working on a new design he completed and he is very much looking forward to seeing it in person at Blerdcon. I can't wait to debut it.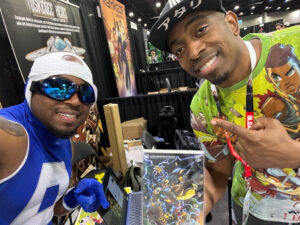 Everyone knows me as A-Train and at times I feel I have taken A-Train as far as I can go but I am often wrong. At this con I was able to debut the graphic novel version of A-Train as a tribute to the original co-creator Darick Robertson. He has been so supportive of me as a cosplayer and I got the official approval from him. That means a lot to me.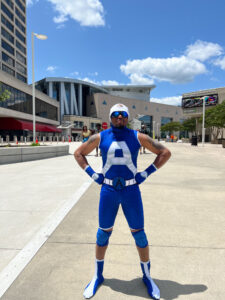 It was also fun being a part of the attempt to break the Spider-Man cosplay world record. You may recognize a familiar face here.
@ethantrace

Guiness Book of World Record at MomoCon 2023! 🕸️🎉 spiderman cosplay
Of course we had to have some fun on TikTok and did just that with a well known Training Day audio from Denzel Washington.
MomoCon 2023 was truly an amazing experience. There was so much to do and see. MomoCon will return to the Georgia World Congress Center in 2024, Friday, May 24 – Monday, May 27. Registration is open with four day passes available for $60 until June 15 at www.momocon.com/registration. After that prices increase to $75 until January 1, 2024.