If you read my Lake District blog post then you remember at the end of it when I finally climbed up to the Fell where I had the great view of Keswick. Well I will unveil that picture today. It was actually quite difficult to get this shot as it was my first time doing any star photography but will not be my last. Some tips if you are shooting the stars and you will need to be in a low lit area with low light pollution. Since you will be in a low light pollution area you will need a flashlight because it will be very dark. I kind of fumbled around with my tripod and used my IPhone as a flashlight and was able to mount my camera. Next it would probably be a good idea to focus your camera before you go as it is quite difficult to focus at night. I unfortunately had to focus at night. Make sure you have a tripod because you will need to take a long exposure and the camera needs to be steady. Lastly I would have a remote shutter release because pressing the shutter on the camera will cause some movement even if it is slight. We want no movement. Since it will be dark you will also need to shoot a high ISO. Last I would say shoot in manual mode so you have full control of the camera settings.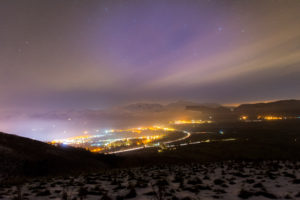 Settings for my picture:
ISO:1250
Shutter:30s
F Stop:3.5
Now if you read my Aurora Hunting post you will have saw some of my Aurora photos as seen below.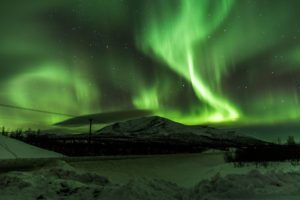 Settings for my picture:
ISO:640
Shutter:30s
F Stop:2.8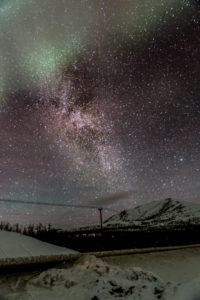 Settings for my picture:
ISO:640
Shutter:43s
F Stop:2.8
One of the most difficult things about star photography is focusing at night and I learned a great deal by trial and error during my last couple of trips.