It's rare that I am upset or indifferent after an American wins a gold medal. This is exactly what I and 50,000 spectators felt when Justin Gatlin won the gold medal at the IAFF World Championships in London. This race was to be Bolt's last solo race and he was expected to finish a winner. He has not only dominated track but sports like so few have done. Even though he lost he is still the greatest to ever do it. Justin Gatlin may have won but he was booed during the semi-finals, before the final race and after the finals. Fans clearly don't like him since he has been caught doping twice.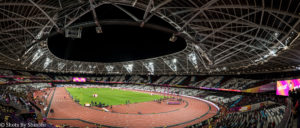 Here is a panoramic shot of the stadium
I don't know what's next for track and field but I just witnessed greatness. Usain Bolt still is the fastest man alive. Spoiler alert! He didn't go out the best way possible; on top. I think I actually saw his ora after he raced even in defeat. Throughout the night the fan's cheered "Usain Bolt!" Even after the race Bolt was still the last person to leave the track as fans still chanted for him and were grateful for everything he gave them over the years. I'm so glad I got to experience this in person. I can add this to events such as MJ's last all star game. That was amazing for me. Just like MJ Bolt is larger than sports. He is something we have never seen before and may never ever again. To win gold in 3 separate Olympics is amazing. I can't believe what Bolt has accomplished. To maintain that dominance is crazy and to set world records that will likely stay for a good while. This loss will not blemish what he has accomplished it just sucks that we didn't get the storybook ending.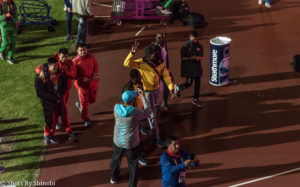 Here is a shot of Bolt leaving the warm up track to run the final 100m heat.
Seeing as gold and silver went to the Americans it is possible that Bolt and Jamaica will lose the 4x100m relay.
I don't know what's next for the sport but take the time to appreciate the dominance we just witnessed. Christian Coleman (USA) placed 2nd and he could be the future of the sport.
Sorry I didn't get better photos of Bolt as I didn't have my zoom lens but I was able to crop a couple of my images. Rookie mistake by me.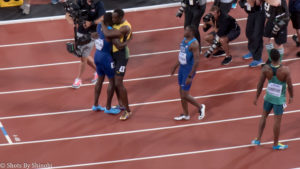 Here is a shot of Gatlin and Bolt embracing after the race.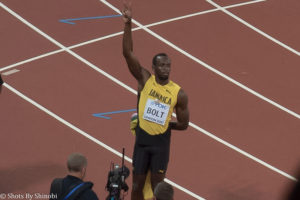 Finally a shot of Bolt after he took his lap around the track and was cheered by all in the stands.