What a year to attend my first Comic-Con. Due to the strikes you won't see the celebs that are normally there to promote their upcoming projects and new reveals from major studios. A lot of people were complaining but as a cosplayer and comic lover I thought it was a good time to get back to the roots of Comic-Con. Celebrating artists and indie productions and most importantly all the cosplayers. I decided not to cosplay from any struck companies in solidarity of the strikers.
I wasn't even supposed to be at the con but 0N1Force reached out to me to work their booth. I was truly blown away by the AR technology they are fusing with comics. Thank you for allowing me to cosplay your character and introduce the comic to the world. We gave our a lot of free comics and worked with some legends. I'm excited for what's to come. Stay tuned. This is only the beginning. Thanks to everyone that came to the booth and chatted with @meikoui and I. It was truly an honor to represent the brand.
A friend of mine won the Marvel cosplay contest in his amazing Ronan cosplay. He really did an amazing job. Here is @namorcosplay as Ronan.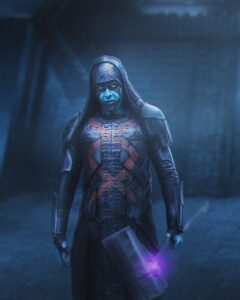 I got the opportunity to meet two people that have been close to me as a cosplayer these past 4 years. If you don't know Laura Jean Shannon she's one of the premiere super hero suit designers. Periodt. And Gina DeDomenico is one of the best concept artists and they work together on so many projects not limited to The Boys TV show. It's safe to say A-Train has been a huge part of my life as a cosplayer since 2019 and it wouldn't be possible without these two and Jessie of course. It was so lovely to meet them and tell them how goated they are in person. I felt bad meeting them in Spidey so I came back as comic A-Train the following day.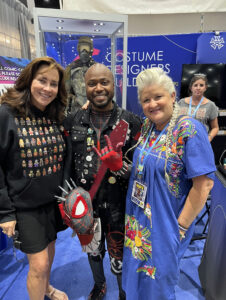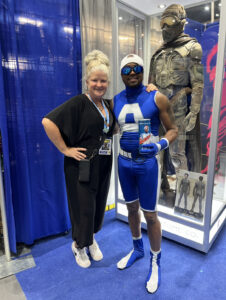 In season 3 Jessie T. Usher says "I even had LJ redesign the suit." This was a reference to her.
The concept art I used for the cosplay alliance cover was their work!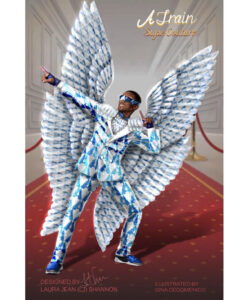 I had to make this video of A-Train running through the con to meet another speedster.
Marvel held the first X-Men Hellfire Gala. I wasn't able to secure tickets but I have done the Nightcrawler Hellfire Gala look in the past and had the Synch Hellfire Gala look prepared this year. I walked in the Hellfire Gala Walk this year at WonderCon.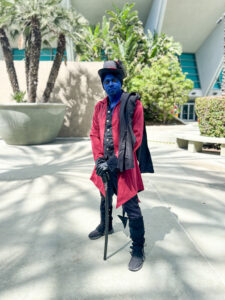 Now let's get to the elephant in the room. The WGA and SAG-AFTRA strike. From a cosplay perspective I wanted to do something to support SAG-AFTRA and the WGA strike. I love the fact that Hobie is anti the establishment so it was an easy choice for me to use his cosplay. It is also a reason why he was my 2nd favorite Spider-Man. I made this sign the night before I left for SDCC and at the end of Day 2 I met a wonderful writer named Toni and she couldn't make the con the next 2 days. I asked if she minded if I used the sign to protest. She said yes of course. Thanks for letting me support. Strength in numbers. Also thank you to everyone that stopped to say kind words in support.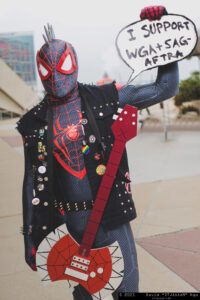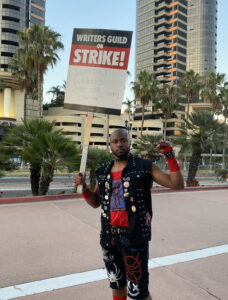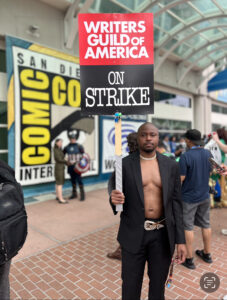 How can you support? Share the message on social media and if you can donate to the Entertainment Community Fund. Every dollar donated goes to a worker who's affected by the strike: https://entertainmentcommunity.org/