The time had finally come to attend the European Black Panther Premiere in London. This event brought my journey as a cosplayer full circle. The first Black Panther European Premiere was the beginning of our relationship with Disney and Marvel. Four black cosplayers just wanted to be a part of the cultural moment the orbital movie was. Black Panther was my first cosplay and we were proud to be represented in the super hero genre. Fast forward to 2022 and we attended the premiere missing a huge member of the cast, Chadwick Boseman. His portrayal of the Black Panther and T'Challa meant everything to me. I was really curious how he would be honoured and they did not disappoint. Watch me get ready for the black carpet.
The black carpet was buzzing. The starts showed up and so did the cast. The fans were buzzing as we walked the carpet in cosplay and I would look into the crowd and yell Yibambe. The energy was electric. We took photos and danced on the black carpet as they gave out free tickets to some people to watch the movie. I met Ryan Coogler for the second time and was able to tell him how much the movie meant to me.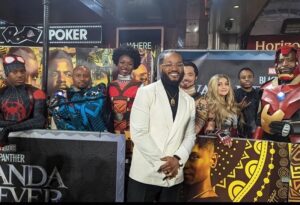 Finally the stars arrived and one by one we greeted them and shared brief moments with each cast member. Everyone was so happy and grateful to see us representing characters from the movie. Winston Duke being his self started chants and the cosplayers followed. The moment of the night had to be when Namor showed up and saw our Namor cosplayer Dex. He came over and showed so much gratitude over the cosplay. It was feeling amazing for him to get that moment.
@dexdoescosplay

I can't believe I got to meet Tenoch Huerta at the Black Panther: Wakanda Forever European Premiere last night!! And he LOVED my Namor cosplay 🤯🤯🤩🤩 This film is absolutely incredible, and Tenoch is a supreme presence in it. Definitely see it so we can talk about it!! Footage captured by @Tess (Ready Cosplayer One) , Namor armour crafted by @Mark. Thanks to @U Go & Cosplay and @Marvel Studios ™ / Marvel UK for the invite!!! #wakandaforever #blackpanther #tenochhuerta #namor #namorcosplay
Then it was time to watch the movie which hands down is the best Marvel project this year. From the start it was an emotional roller coaster. One that I will go on again soon.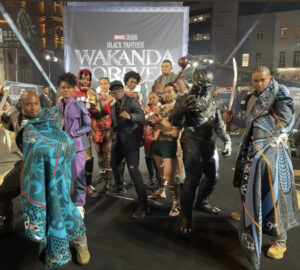 A huge thanks to Marvel and Disney UK for having us represent some of our favorite characters and highlighted black cosplayers. I was even featured on the Black Panther and Marvel UK social media pages.
Representation Matters. Wakanda Forever.