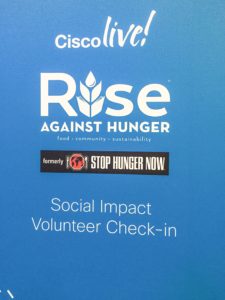 I was always raised on the importance of giving back ave helping people less fortunate than you. I recently attended the Cisco Live conference in Berlin to renew my CCNP certification and maybe say hey I have a book and you should buy it :).
Shameful self promotion.
Buy book here: https://www.amazon.com/Cisco-Networks-Engineers-Handbook-Switching/dp/1484208609/ref=sr_1_1?ie=UTF8&qid=1448910454&sr=8-1&keywords=cisco+networks
Rise Against Hunger was in attendance as a partner with Cisco looking for volunteers each day to pack food to send to kids in Zimbabwe each day with a goal of 50,000 bags of meals. You know I'm about networking so I spoke and met the Director and reached out about volunteering in the U.K. She was ecstatic and we exchanged contact information looking forward to volunteering in the U.K. in the future. I also mentioned how I was looking forward to going back to Africa to do some mission work and they also have partners there of course. In the end we packed over 64,000 meals surpassing the goal. I look forward to working with the organization again in the future.
Give back and if you can't give money give your time.
A little info on Rise Against Hunger and Stop Hunger Now
www.stophungernow.org and www.riseagainsthunger.org
The goal is to end hunger in our lifetime. A world without hunger!
Meals are distributed through school feeding, emergency relief and sustainable community programs. Get involved and check the website to volunteer in a city near you. Meal packing is done in many different countries.
Photos taken with my phone.